Consulting BSC – KPI System Building
Consulting
BSC – KPI System Building
BrainMark is a Giant in consulting field who specializes in building BSC – KPI system for local and foreign companies in Viet Nam. So far, it has been providing consulting to over 568 companies applying successfully the system in their business. The steps BSC – KPI is implemented by BrainMark are as follows:
BSC – KPI means:
A tool to evaluate work's performance
A method to record employee's capability
A system helping employee improve his work
A method to reward employee
A management way to bring joy to employees 
Consulting steps include:
Setting company objectives based on company strategy and business plan
Guiding to build strategic objectives according to Balanced Scorecard
Advising achievable & realistic objectives to Board of Directors (BOD)
Reviewing organizational structure and functional system
Guiding middle- level management to build departmental objectives
Guiding to allocate, and transfer company and deparmental objectives to each individual employee
This is a fundamental step on which working performance of each employee, department and entire company are evaluated. After the first step is implemented, clear and well- defined objectives of company would be set up according to SMART that clarify duties and responsibilities of each employee, department in work.
Determining principal targets for personal KPI
Establishing standards of attitude, bahaviour based on company rules & regulations
Setting suitable measure for each target
Building and proposing appropriate weight in KPI
Monthly personal KPI which is used to evaluate employee's working effectiveness will be set through this step.
Building BSC – KPIs evaluation system
Setting company- level BSC – KPIs
Setting department- level BSC – KPIs
Setting monthly personal KPIs for each staff
This is the most important step in implementing BSC – KPIs. It requires the system to apply suitable measures, weights corresponding to company and department objectives. Once completing this step, company will have a set of form for evaluation
Implementation training
Training management team and potential staffs on BSC – KPIs
Training  management levels to implement evaluation process of BSC – KPIs
Training human reources department coordinating with other department managers to evaluate employee KPI
This training step will be continuously implemented throughout the consulting project in order that company has a clear understanding of BSC – KPIs. BrainMark ensures company can be able to implement, and control the whole system as expected after consulting
Results achieved after implementing BSC – KPIs
Be able to easily manage BSC – KPIs system for long- term use
Be able to set achievable & realistic objectives of company, department as well as of employees
Helping all staffs have a better view in achieving company objectives
A system to evaluate working effectiveness of department and employee
Be able to refresh company way of thinking, enhancing responsibilities in works
After BSC – KPIs is applied, management levels will have a brief overview of what should be improved or changed such as position replacement, talent retention or providing timely support to each employee for better performance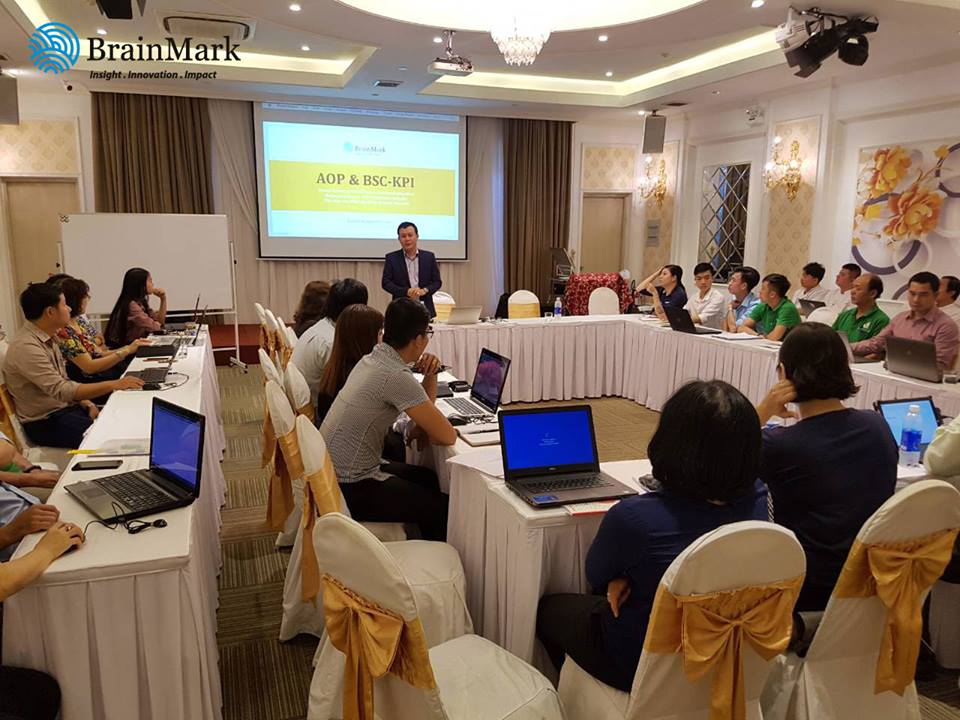 BrainMark, with philosophy of simplicity and efficiency, is the most prestigious BSC – KPI training & consulting company in Vient Nam that customers are increasingly trusted. So far, it has been providing consulting to over 568 companies applying successfully the system in their business. Moreover, BrainMark also provides BSC- KPIs software for better BSC – KPI implementation
Please contact us at the address below for more information:
—————————————————————
BrainMark Consulting & Training
596 Nguyen Dinh Chieu St., Ward 3, District 3, HCMC, Viet Nam
Hotline: 0909 363 363
Email: consulting@brainmark.vn